There are a host of ways to enjoy Oberlin.  You can enjoy the sounds and beauty from art galleries and concert halls, a variety of  food and drink at our many restaurants, and unique offerings at retail shops. Spend the day exploring Oberlin's rich history of culture and sense of place, on foot or on bicycle and learn how, for close to 200 years, the citizens of Oberlin have renewed their determination to live, learn and lead.
Oberlin Community Magazine  Enjoy experiencing Oberlin via our Pathways and Connections community magazine.  Learn how to spend days in Oberlin enjoying art, music, history and activities and see the many shops and restaurants where you can expect the unexpected!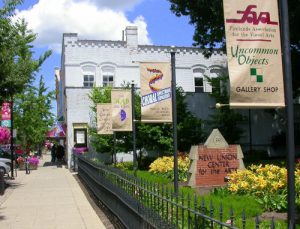 Start with the 500 concerts by students, faculty, and guest virtuosi at the Oberlin Conservatory each year. Add another 50 for open mic at the Woodshed every Friday, starting at noon. Top that off with summer concerts on the Clark Bandstand, seasonal performances by Credo, Oberlin Choristers, the Northern Ohio Youth Orchestra,  and the MAD Factory and you have a regular music smorgasbord, nearly every day of the year.
Oberlin is an aesthetic powerhouse. It hosts a nationally ranked art museum – The Allen Memorial Art Museum – as well as art galleries at Kendal, Ginko Gallery, and the Firelands Association for the Visual Arts (FAVA). During temperate weather, banners by local high school students adorn downtown streetlamp posts. Oberlin residents and visitors alike celebrate art en masse with the Big Parade in early May and Chalk Walk in late June. Best of all, you can enjoy art in Oberlin for free, all year long. Whether you prefer Asian decorative arts, climbable public sculptures, or paintings by regional artists, you'll find something to love during your art outing in Oberlin.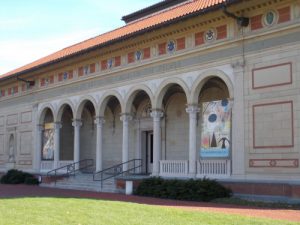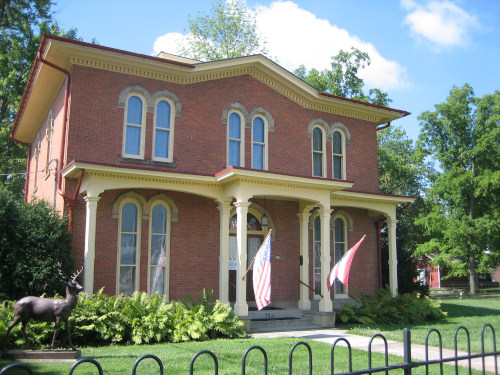 A visit to Oberlin is not complete without a visiting Oberlin's history of 200 Years of Constructive Dissent still embraced by residents who maintain the central edict of critical thinking: "things could be otherwise." The preservation and interpretation of Oberlin's history is the mission of the Oberlin Heritage Center (73½ S. Professor St.; parking at 20 W. Vine St.). Their staff and volunteers lead indoor tours year-round, group walking tours in Oberlin from April to October (call ahead for reservations), and public walking tours every Saturday in June,  July and August. You can use their online resources at www.oberlinheritagecenter.org to build a self-guided tour, too.
In addition to the music, art, history and outside adventures, Oberlin offers an impressive selection of more than 20 restaurants.  Your palate can enjoy everything from healthy smoothies, awesome coffee and pastries, burgers and beer, locally sourced foods and wine, deli sandwiches, a variety of inventive salads, the best pizza and Italian dishes in Lorain County, comfort foods better than moms (sorry mom), and the very best Thai food anywhere. Most within walking distance in downtown Oberlin.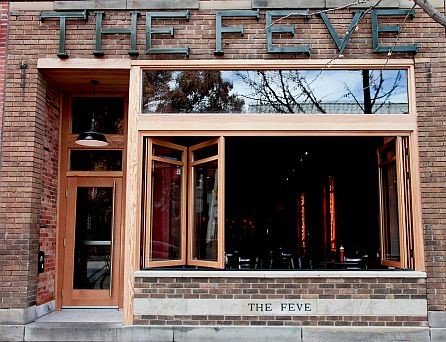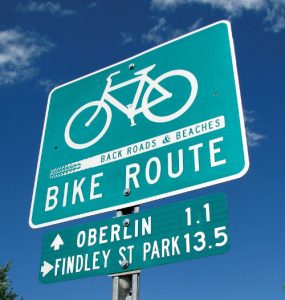 Oberlin is the effective midpoint of a 15-mile, bike-dedicated stretch of the North Coast Inland Trail.  The trail is popular with locals and visitors of all ages. From Oberlin you can head west to Kipton or east-northeast towards Elyria.  Along the 13 miles from Elyria to Kipton, riders ascend less than 11' per mile making it a family-friendly route.  There are 14 parks and reservoirs in Oberlin featuring a variety of outdoor experiences.
Oberlin offers unique shopping experiences.  Browse through one of the only remaining Ben Franklin stores in the country and walk around the corner to Watson's Hardware, founded in 1895.  Pick up an Oberlin Visitors Guide at the Oberlin Business Partnership office at 23 East College Street and enjoy walking our downtown.  Check out  our retail shops in the member directory.
See retail establishments in the membership directory.