Each program or event is designed to contribute to the prosperity of Oberlin and its residents.  Our high-profile events commence in June with Chalk Walk, continue  through summer, and wrap up in December with the Holiday Promotions Campaign.  Our events in Tappan Square attract local residents and visitors alike to celebrate the arts, enjoy a concert, participate in the many activities in the Family Fun Fair and Classic Car show, and patronize local retailers and restaurants.  It's how local celebrations drive the local economy.
This calendar highlights events posted by many community organizations and provides links to those organizations and events.
This calendar provides links and registration opportunities for events offered by Oberlin Business Partnership and CoWork Oberlin. To find out more about CoWork Oberlin click here: https://www.coworkoberlin.org/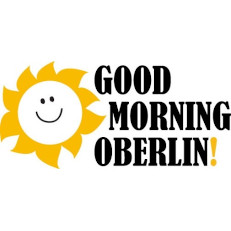 GOOD MORNING OBERLIN
Good Morning Oberlin is a business and community meeting that offers attendees the opportunity to network, learn, and share information about their businesses, projects,  events, etc.  OBP hosts this meeting the second Thursday of each month with 35 to 60 people attending.  Each month  has a primary theme and one to three short presentations - followed by Q&A. Join us to be informed and in touch with what is happening in our community and region.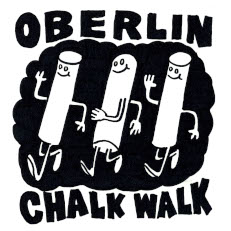 CHALK WALK
For over 13 years Oberlin Chalk Walk has been a collaboration of the Allen Memorial Art Museum, the Firelands Association for the Visual Arts (FAVA), Oberlin Business Partnership, Oberlin Heritage Center, and the Oberlin Public Library. Local and regional artists create imaginative chalk drawings throughout downtown Oberlin. Volunteers are on hand to provide free chalk and people of all ages can add their own artwork to the sidewalk galleries. If you can't engage your inner artist in creating chalk art, come downtown to view art in action.  Take a leisurely stroll (be sure to take photos), enjoy food from one of our local restaurants and be amazed by what people can create from a few sticks of chalk and a sidewalk square.  Chalk Walk happens annually on the 3rd weekend in June.  http://www.oberlinchalkwalk.com/
SUMMER CONCERTS ON TAPPAN SQUARE
Each year OBP hosts a variety of bands to perform at the Clark Bandstand on Tappan Square on Friday nights from 7 to 9 p.m.  The concerts are FREE.  People come from all around the region to spend a relaxing evening listening to music in beautiful Tappan Square. Get some take-out food, invite friends, put your blankets down and have a picnic.  When the spirit hits, people have been known to join impromptu dance parties and they sing along to the music – people of ALL ages. Concert schedules are on the OBP and Community Calendars.  https://www.facebook.com/oberlinsummerconcerts/
THE BIG PARADE
The Big Parade is a town-gown tradition in Oberlin. Each year in early May the downtown streets are visited by this home-grown spectacle.  The parade features floats of all kinds -  marching groups, out-of-this world hand-made costumes, puppets, etc.  Workshops leading up to the parade help people of all ages design items to present and/or wear in the parade.  The day continues with a festival on Tappan Square.   https://www.facebook.com/oberlinbigparade/

JUNETEENTH
The Oberlin community celebrates Juneteenth – the oldest known celebration commemorating the end of slavery in the United States with a public festival and picnic on the first 'teenth' weekend in June each year.  The celebration is free and includes music, food, a parade culminating in with a picnic on Tappan Square.  https://juneteenthoberlin2.wixsite.com/oberlin
FAMILY FUN FAIR & CLASSIC CAR SHOW
Laughter and excitement take over the streets of picturesque Oberlin for the annual Family Fun Fair and Classic Car Show on the first Saturday in August. Car buffs enjoy the magnificent, gleaming cars of yesteryear. Kids ages six to 96 are entertained by the boogie-down sounds of the Clayton Brothers Band which prompts dancing in the street.  There are many activities for all - the big wheel race, hula hoop contest, bubble soccer, rock climbing, bouncy houses, laser tag, and tables of fun crafts and promotional items from area nonprofit organizations.  The Fair features yummy Food Trucks and local restaurants. To round out the fun a few chosen community representatives are be merrily dunked in the Fair's Dunk Tank – proceeds from the dunk tank go to charity.  https://www.facebook.com/OberlinFamilyFunFair/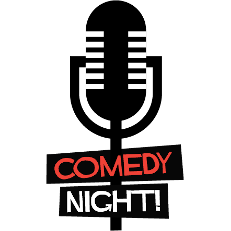 COMEDY NIGHT FUNDRAISER
Everyone needs to relax and laugh one in a while – especially if it is for a good cause. Comedy Night helps to raise funds to keep the Summer Concert Series and Family Fun Fair and Classic Car Show FREE events as has been the tradition in Oberlin for 27 years.  And, importantly, you will have fun.  The evening begins at 6:45 p.m. with music for your enjoyment.  The comedy show starts at 7:30 p.m. with three acts – each with a different comedian.  In between acts, we will announce winners of the prize raffles and give you some time to buy more 50/50 raffle tickets.  Cash bar features beer and wine and there are free snacks and deserts.  The evening ends at 10 p.m. with the announcement of the 50/50 raffle winner! Tickets are only $20 – tables of eight only $180.  You can register here.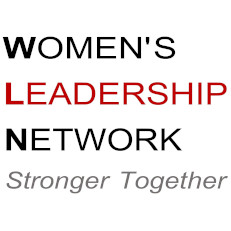 WOMEN'S LEADERSHIP NETWORK &    LEADERCAST WOMEN EVENT
Involvement in the Women's Leadership Network helps women achieve personal fulfillment and growth in leadership competences through collective, social engagement.  We are developing a regional network of women across generations and occupations to support one another via mentoring, resource sharing, and community engagement. The highlight of the year is the Leadercast Women event which brings together over 200 women to hear relevant  presentations from nationally recognized and inspirational women, and to network and learn from each other. The door is always open for women who want to be engaged in WLN.  If interested, please contact us for more information.  440-774-6262 | obp.org@gmail.com | https://www.facebook.com/leadercastwomen